It
wasn't
raining this morning, so I figured I'd go ahead and ride my bike into work -- even though there is a 40% chance of rain when it will be time to go home.
With temps in the 50s, I figured I'd wear jeans and a long-sleeve, button-up shirt to work.
Yes, I could wear jeans every single day to work, if I chose.
Since it was so cool, I threw on my rain jacket as well.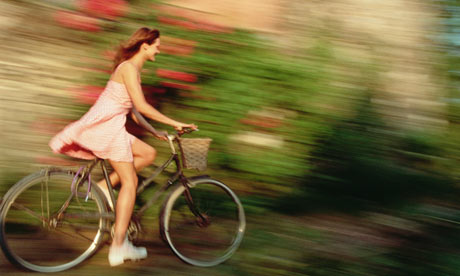 source
Perhaps I ought to have dressed more like this...
Big mistake!
I. Got. So. Freaking. HOT!!
After about 4 miles, I had to stop and take off my jacket. Only to discover that my shirt was pretty much drenched. Ew.
Thankfully, I always keep a sweater at my desk, so I dried off with some paper towels and switched into my sweater. Sure, my yellow bra is slightly visible through the white knit, but at least I'm not sitting in my cold. wet. shirt.
Note to self. Temps in the 50s does not necessarily mean it's time to bundle up. Also, it's a good idea to bring extra clothes.
On a slightly unrelated note, I was looking over the information for my 5K on Saturday.
Courses: Challenging rolling hills courses in scenic Roseville.
Yikes! Not only hills, but
challenging
hills? Why did I not notice that beforehand? Will receiving a t-shirt and rose really be worth it? OF COURSE! :)