I'm linking up with Fadra's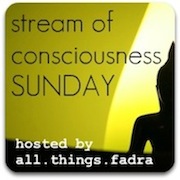 Today's Writing Prompt: Describe, in detail, the way you like to relax.
In detail? I don't really know.
In general? I'm pretty easy to please.
I could relax by:
simply vegging in front of the TV watching a favorite show or a movie.
reading through my favorite blogs.
reading a book.
going for a run or to the gym.
taking a bubble bath. maybe with some glowing candles.
I don't really
need
anything to relax for me.
I'm not really a comfort-food or drink kind of chica.
I mean I
do
tend to eat a lot, but not really as a way to
de-stress
or relax. I just eat because I'm hungry or because it's there. Unfortunately, it's sometimes too often the latter.
Relaxation can come in various ways, I suppose.
I kind of prefer the escapist way to relax. Mind-numbing. Not needing to
think
. Or laughter. I love to laugh!
******
Now it's your turn! Here are a few rules:
Set a timer and write for 5 minutes.
Write an intro to the post if you want but don't edit the post. No proofreading or spellchecking. This is writing in the raw.
Publish it somewhere. Anywhere. The back door to your blog if you want. But make it accessible.
Add the Stream of Consciousness Sunday badge to your post.
Link up your post.
Visit your fellow bloggers and show some love.
What are your favorite ways to relax? How did you relax this weekend?