Today was my last day of work.
I know I'm off to bigger and better things
plus
I was a bit of a slacker at work, so I was pretty much looking forward to finishing up this assignment.
Still, it was with mixed feelings that I ate my good-bye lunch and worked through this final day.
Of course, our company
holiday
party is tomorrow evening, so I'll see everyone one last time.
In addition to a free lunch today, I also got a card signed by everyone in the office (about 10 or so people) with a $100 GC to the Aveda Institute included. That was very unexpected!
I think I'll hang on to it until around Spring Break. I'm betting I'll be ready for a little pampering by then. :-)
My boss also made me this pretty pendant.
And then her boss gave me a $50 Visa gift card as a thank you for working over MLK weekend.
All in all definitely not a bad last day of work.
And now for Five Question Friday.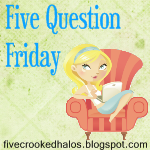 1.
Do you swim in the winter?
Only if I have to. I'm not a big swimmer, but I'll go every now and again to encourage my husband to get some exercise. Last weekend I swam with the sharks at SeaLife. Does that count? Hopefully I'll get a post on that up in the next few days.
2.
Do you love or hate winter?
Yeah. I'm pretty much a winter hater. I hate the cold. The dry, itchy skin. The bloody noses. The cold. The dark. Blah.
3.
Do you put makeup/actual clothes on when you know you're going to be home all day with just family?
Ha. Sometimes I don't even put makeup/actual clothes on when I'm going out and about. Oops!
4.
How old were you when you had your first alcoholic beverage?
I was 20.
5.
How many ill calls in a 12 month period do you think are acceptable?
I'm not sure. Maybe 9-15.
Have you ever received gifts on the last day of a job? What are you up to this weekend?