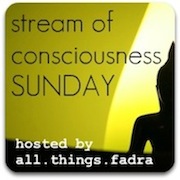 Today's Writing Prompt: Write about something that you unexpectedly had a hard time saying good-bye to.
Today's topic was the kind that really gnawed at me. I
knew
there was something somewhat recently that I had to say good-bye to and it made me sad, but I couldn't for the life of me remember what it was.
Was it our car? We've been living car-free since Aug 2010. I knew it would be difficult, but I didn't really have a hard time saying good-bye.
So that wasn't it.
I racked my brain.
Finally, I asked my husband what he might remember. Our first apartment? Not really. Our apartment in Brooklyn? No.
And then I remembered our electric piano.
We sold it a few months ago. I didn't play it very often, but I just liked knowing it was
there
if I wanted to play or attempt to play.
I grew up taking piano lessons. I can't say that I loved it or that I was particularly fantastic at it, but I could get by. I played in a few recitals and competitions in high school. It was fun.
Deep down, I really believe that music can be so beneficial in our lives. I think that playing the piano is an excellent skill. It's impressive when showing off.
I miss our piano at times.
But I know we'll have another one some day.
******
Now it's your turn! Here are a few rules:
Set a timer and write for 5 minutes.
Write an intro to the post if you want but don't edit the post. No proofreading or spellchecking. This is writing in the raw.
Publish it somewhere. Anywhere. The back door to your blog if you want. But make it accessible.
Add the Stream of Consciousness Sunday badge to your post.
Link up your post.
Visit your fellow bloggers and show some love.