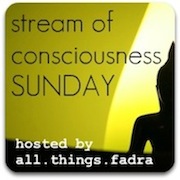 Today's Writing Prompt: What's your take on fate? Does everything happen for a reason? Are we in control of our own destiny?
No, I don't really believe in fate. Life is to be
lived
and
experienced
. I think fate is kind of a crutch for some people. Something good happens? It must be fate. Something bad? Fate.
Um. No.
Let's take responsibility for our own happiness or misery.
I think we are in control. We can
choose
to be happy.
Yeah, sure. Sometimes bad things do happen to good people. Sometimes things happen that are beyond our control.
But even when that happens, we can choose how we
react
to it.
I don't think I would like to live in a world that was pure destiny or fate. Why would I work hard to achieve my goals or dreams if nothing I did made a difference?
Would I even have dreams or goals?
******
Now it's your turn! Here are a few rules:
Set a timer and write for 5 minutes.
Write an intro to the post if you want but don't edit the post. No proofreading or spellchecking. This is writing in the raw.
Publish it somewhere. Anywhere. The back door to your blog if you want. But make it accessible.
Add the Stream of Consciousness Sunday badge to your post.
Link up your post.
Visit your fellow bloggers and show some love.