All I can say is THANK GOD IT'S FRIDAY!
Seriously.
I am so ready for this weekend.
Let's start off with a little Flashback. Once again back to 2009.
Oh yeah! I'm definitely
not
complaining that it doesn't look like this today.
Instead, it's 77°F!
And now for ...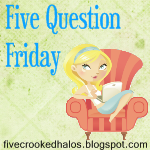 1. Will you run to the store or to pick up a kid looking a mess?
Sadly, yes. I'll try to look somewhat presentable, but sometimes that is way less impressive than other times.
2. Do you finish a book if it's boring or you don't like it?
It's rare, really rare, for me to not finish a book that I start. Or at least that used to be true. Now, it's much easier for me to put down a book and not pick it up again for months, if ever.
3. Beach or mountain vacations?
Honestly, I wouldn't mind either. I just love to go somewhere new and different. I'd be very happy lounging on the beach or hiking in the mountains.
4. What thing/event says "winter will end and spring is right around the corner" to you?
Oh, I don't know. Daylight Savings Time, I suppose. It's been so gorgeous here the past few days, but I still kind of feel like there will be another snowstorm before summer comes around. Hopefully mild. Minnesota certainly has been spoiling us for our last winter here. :-)
5. Would you prefer couples or family vacation?
I guess I prefer couples - only because it is fewer people to manage. Not having kids of my own, family vacations would be with my parents, siblings and their kids, and that adds up to a lot of different preferences on what to do, eat, etc.